*This post may contain affiliate links. As an Amazon Associate we earn from qualifying purchases.
Cornhole is an incredibly fun game that anyone can enjoy. Whether you are tailgating or having a backyard barbeque, you need the best cornhole boards to show off to your friends. After all, you want to look good while you win, right?There are a lot of different kinds of boards to choose from, and choosing from the best cornhole boards can be difficult. It's essential to figure out what you are planning on using them for before you go out and buy a set. Also, make sure you know how to play before buying any board.
Comparison Table
[amazon box= "B079JDQKTY,B076TS588Z,B07PS1RF3L,B077BWXWNF,B07H5ZX7VB,B0716LS78L,B07B3DVZT3,B015694RY4,B07R3WFXR8″ template="table"]
What is Cornhole?
Cornhole is a game of strategy and cunning, but mostly, it's just great fun with friends and family.Cornhole is a simple game that you can play with up to four players, and you can set it up inside, but it's more common to see the game outside.Two players are on a team, and the goal is to reach a score of 21 by tossing bags filled with corn kernels onto boards. The game goes in rounds, where each player on one side takes turns tossing their bags at the opposite board. The teammates stand opposite each other with one board.At the end of the rounds, the team with the most bags on the board gets the points. Points are earned by either landing a bag in the hole for three points, or on the board for one. But the opposing team can cancel or reduce points by landing on the board or in the hole right after you do.Throughout the rounds, the upper hand can change depending on who lands first. It is very easy for a team to catch up quickly and for the leading team to fall, so it's all about strategy and a little bit of skill.
Quick history lesson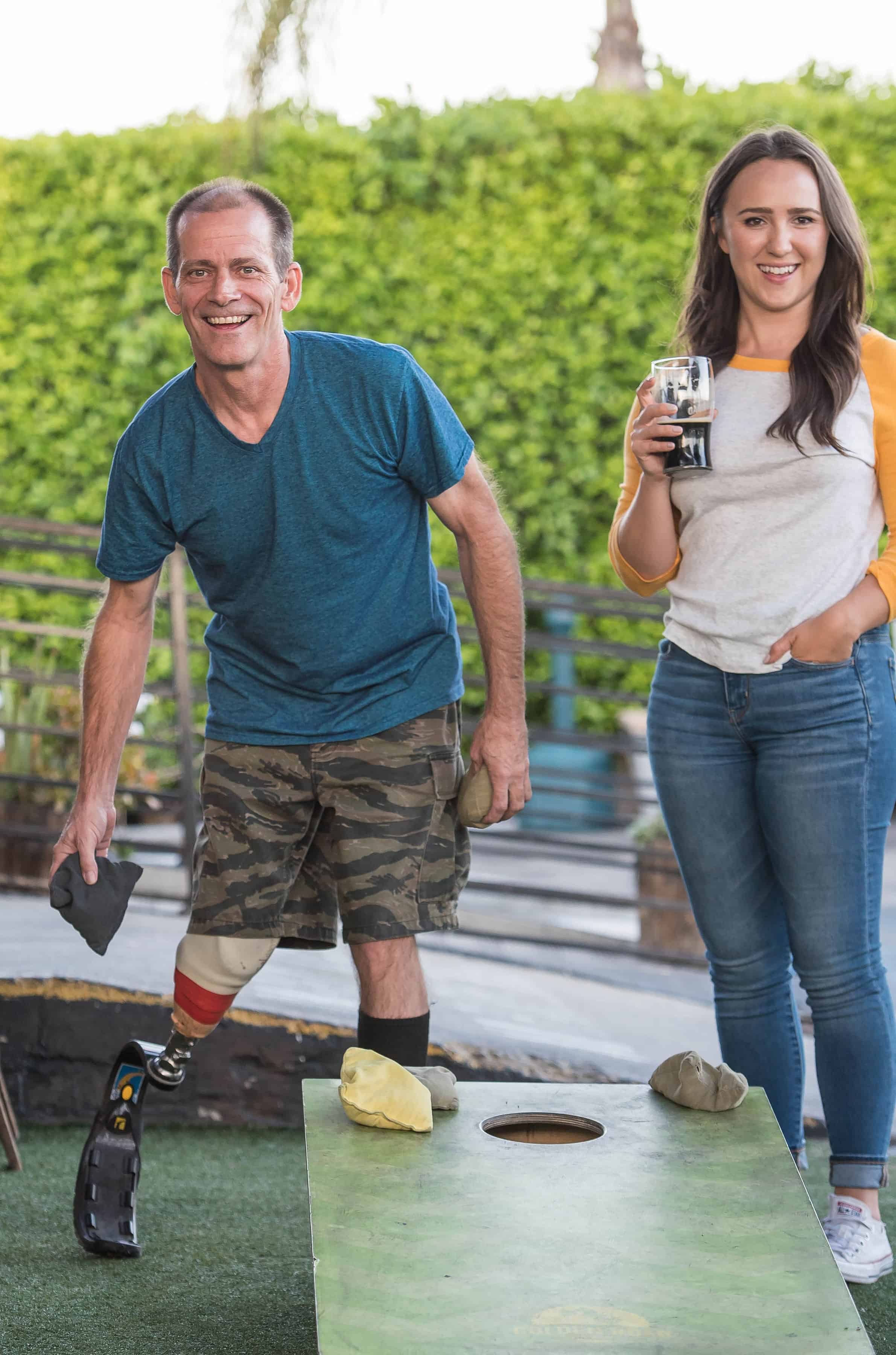 The origins of cornhole are surprisingly mysterious. There is no exact origin of the game, but there are various rumors of where it may have come from. Some say the game was invented in 14th century Germany, but others say it was the Blackhawk tribe of Illinois.However, one rumor that most agree on is that there was a resurgence in the popularity of the game in Kentucky in the 1800s. The game found it's way into parties of any kind, from backyard barbeques to tailgates. The Cincinnati Bengals football team taught fellow tailgaters from opposing sides the game, and it just took off.Now, you'll most likely find cornhole in just about every tailgate party before the big game.
Cornhole Board Standards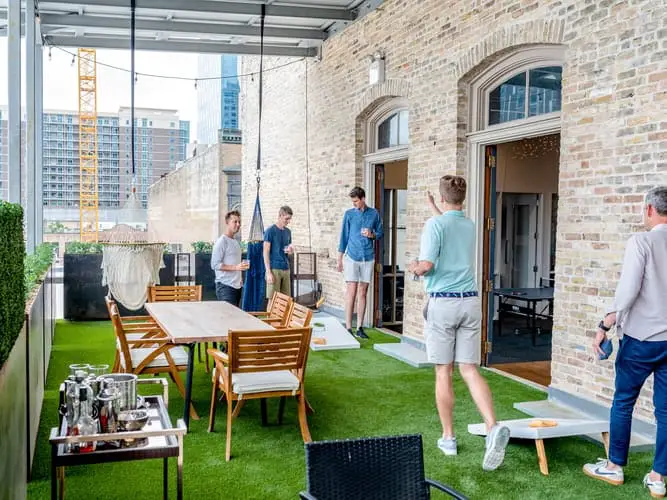 Believe it or not, there is an actual ruling body when it comes to Cornhole. Properly called the American Cornhole Association, they have developed a set of regulations and rules in the event of a tournament-style game.These regulations take into consideration everything from the size of the boards to the weight of the bags.These regulations get real technical also, so you know they're not playing around.A regulation cornhole board should have a hardwood plywood surface measuring 48 inches by 24 inches. The boards should also weigh no less than 25 lbs. For the hole, it should be 6 inches in diameter, centered 9 inches from the top of the board and centered from each side edge.Now, since the boards all sit on a slant, the front is to be 3 to 4 inches from the ground to the surface. The back of the board should be 12 inches from the ground.Of course, these standards are rarely kept, since most cornhole games are played privately and everyone has their ideas of the rules.
Types of cornhole boards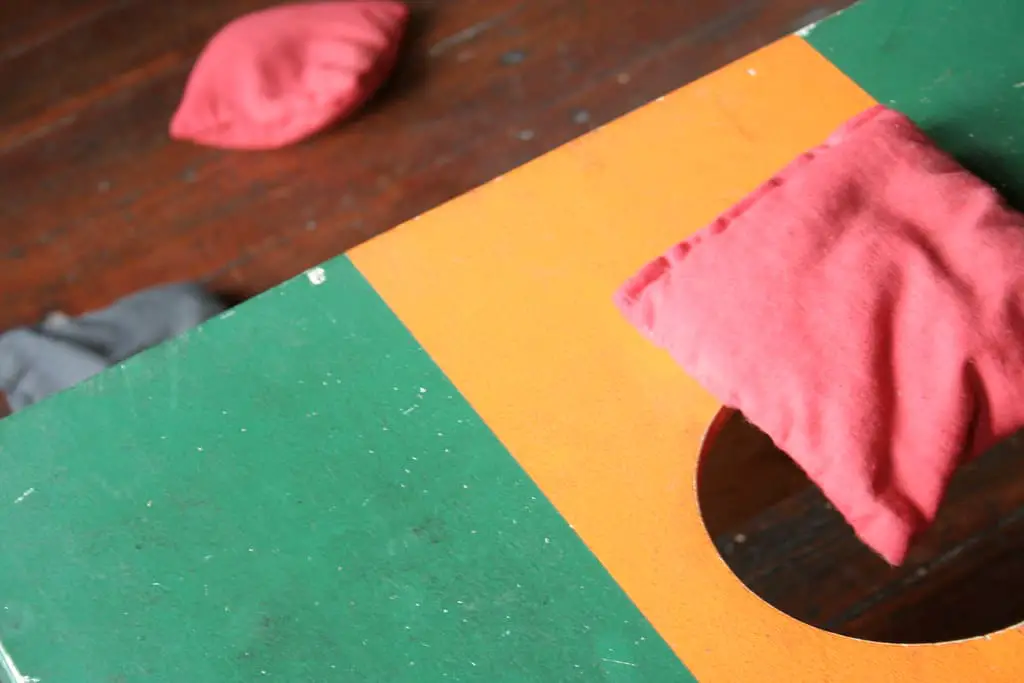 Image via flickr
When looking for the best cornhole boards, there are a few you're going to be choosing from. Since you probably won't be playing in a regulation game, you have the freedom to play around and find a board that you like.The different types you're going to find are of course regulation boards, tailgating boards, and portable boards. However, those types aren't official, and more often than not, a board will fall into a few different categories.
Regulation boards will be full ACA size, made from wood and meet all the standards for a regulation game. These will also be relatively expensive, but they will last you a while.
Tailgating boards will often be portable as well, but portable boards will have some additional features. These boards will be a bit smaller than regulation and may have folding legs for easier carrying. Boards for tailgating will usually be made from wood, but you can also find plastic, metal, and other combinations as well.
Portable boards are not regulation size, as that would defeat the purpose. These may also feature a handle that allows you to carry them from your car to wherever the party is. The material of these boards can be wood, but it's far more common to see plastic or aluminum, as it makes the boards much lighter.
How to buy choose from the best cornhole boards
When you are in the market for the best cornhole boards, you may want to pick the first set you come across. However, there is a fair amount you should consider before you make the purchase.Figuring out the type of board you want should be first on your list, as it will narrow down your search substantially. If you plan on bringing the game to your tailgates, buying a regulation size set is pointless. That is unless you are really into cornhole.The type of material the board is made from is another contributing factor you should think about. Wood is the ideal material for cornhole, as it offers the most traditional playing experience. Also, wood usually provides less of a chance for the bags to bounce or slip, unlike plastic or metal.On the other hand, plastic and metal boards may be more durable and can last a bit longer. So if you are looking for durability over a better playing experience, you may be better off with one of those materials.Honestly, buying the best cornhole boards is all about what you want the boards for. Some prefer portability over performance. Others may want the option to participate in a league game, which requires the boards to have specific measurements and the like.It's all about you here, after all.
How We Review
Now, we haven't had the chance to test out and go over each set in our best cornhole boards buyers guide.The following cornhole boards all come with high ratings on Amazon, along with glowing customer reviews. Many of these products are also made from brand kings when it comes to Cornhole and other backyard games, so you know you are getting a quality set.However, that doesn't mean the information here, along with our recommendations, is null. All of the information, along with our recommendations, comes from highly reputable sources, expert reviews, the American Cornhole Association itself, and Amazon pages.On the other hand, plastic and metal boards may be more durable and can last a bit longer. So if you are looking for durability over a better playing experience, you may be better off with one of those materials.We take customer reviews and ratings into consideration when creating our list, as should you as a buyer. We know what to look for because we've been in your shoes.
Best Cornhole Boards
However, this list is in no particular order, regardless of the star rating mentioned on the products.Even if you do not find the best cornhole boards for you in our list, this will still give you a place to start and compare future finds.
[amazon box="B079JDQKTY"]
Looking to rep for your country or state during a league game, look no further than GoSports. This cornhole set features regulation size cornhole boards with various country and state flag graphics printed on the front of them. Each board is four feet by two feet, which is in line with ACA regulation.This set also comes with eight regulation size and weight cornhole bags, four of which are red and four blue. The set comes with a convenient carrying case that also fits the boards themselves, so you can easily carry it from your car to wherever the party is.
Pros
Regulation size boards and bags

Carrying case

Multiple designs to choose from

Solid wood design
Cons
May be too big for tailgates
[amazon box="B076TS588Z"]
Living up to the brand name, these boards are great for fall tailgates. The Tailgating Pros cornhole set features two solid wood boards that are slightly smaller to increase portability. These boards size in at 3 feet by 2 feet, with a half-inch top board, placing them just under regulation size.The feet of the board are held together with mitered joints and heavy-duty hardware to prevent any damage coming to them. The bags that are included in the set feature regulation weight and are filled with whole kernel corn. There are plenty of colors to choose from, so you have the freedom to find the right fit.The plain wood of the boards allows for you to design them however you like, so get creative with it!
Pros
Solid wood construction and heavy-duty joints

Blank, varnished surface allows for limitless customization

Tailgate size which increases portability

Carrying case
Cons
Not regulation (if you want a full-size board)
[amazon box="B07PS1RF3L"]
Lightweight and portable is what Himal is striving for with this set. The Himal portable cornhole boards feature a three-foot by two-foot PVC frame and 300D heavy-duty canvas fabric top board. The top fabric is held on the PVC frame using velcro, which allows the surface to stay tight throughout the game.The whole set weighs a total of 5 lbs, which makes these the lightest and most portable cornhole boards we have on this best cornhole boards guide. The set also includes eight red and blue bags, four of each color, and a carrying case, which makes things even easier.While personally, this doesn't look like it should work, apparently it does, and people love it.
Pros
Lightweight and portable

Velcro straps keep the board tight

Perfect for carrying from place to place

Good for families and beginners
Cons
More for fun and not serious players

Not regulation in any way
[amazon box="B077BWXWNF"]
Yup, you read that right. The American Cornhole Association (ACA) has it's own official cornhole boards, and they're fantastic.This set features 2 full 4 feet by 2 feet boards with an American flag design on the front. However, they also have a tailgate size available, if that is more your speed. The sturdy Baltic Birch Plywood construction makes for a durable board that is sure to hold up against the elements and your friends.The set also comes with eight regulation bags, four red and four blue. If you are looking for the end all be all for regulation cornhole sets, this is it.
Pros
100 percent regulation boards and bags

Licensed by the American Cornhole Association

Heavy-duty construction

Convenient handle on the sides of the boards
Cons
Only one surface design available

Expensive
[amazon box="B07H5ZX7VB"]
If you are looking for a truly unique style of board, this ​GoSports​ variant is the one for you. Instead of the traditional wood construction, these boards feature a sustainable Bamboo construction. However, only the top board is bamboo, while the frame and legs are pine plywood with mitered joints.The set also comes with regulation bags and a carrying case for easy porting to and from your party. The bamboo surface also has a varnished surface, which allows you to customize it yourself; however, you like.
Pros
The bamboo top board is just as durable as standard wood

Full size

Tailgate size available as well
Cons
Bamboo needs to be kept dry, though it is not prone to warping
[amazon box="B0716LS78L"]
EastPoint Sports is a big name when it comes to backyard games, and their portable cornhole boards live up to their reputation. These two-feet by three-feet boards have a unique feature to attach, which makes them far more portable easily. By connecting, you can also store their eight bean bags, so everything stays together.The boards themselves have a medium-density fiberboard construction, along with reinforced corners to protect the set from any damage. However, customers love the fact that they are easy to carry and the well-built construction of them, so they may be worth a look.
Pros
Easily portable

Durable construction

Boards create an all-in-one carrying case

MDF makes these boards very light
Cons
MDF isn't weather resistant

Wood is usually more durable than MDF
[amazon box="B07B3DVZT3″]
While ZENY claims these are portable because of the carrying case the set includes, the boards are full regulation size. This may make carrying them a bit more cumbersome than it would with smaller boards. Nevertheless, these boards feature a stellar sustainable all-wood construction, with the bonus of being weather resistant.The feet are easily foldable and are securely attached to the board. Also, the board features a plain varnished surface which allows you to customize them however you like.
Pros
Full regulation size boards

Sustainable wood design

Convenient carrying case

Easy to customize
Cons
Full-size boards are harder to carry

Some customers complain about the boards smelling like gas
[amazon box="B015694RY4″]
In the realm of lightweight yet durable portable boards, F2C has a unique set for you. Their portable tailgate or regulation size cornhole boards feature an aluminum frame with UV-resistant and waterproof MDF top boards. These boards also can attach with metal latches on all sides.The set also features a carrying case, if you want to protect your set even further.
Pros
Lightweight and durable aluminum frame

Waterproof MDF top board

Easily portable
Cons
Not regulation

Metal and MDF may lead to a different performance during the game
[amazon box="B07R3WFXR8″]
If you want ACA regulation with quality without the price tag, Exercise N Play has got you covered. Their full size, regulation boards, feature 100 percent handcrafted wood construction, available with either American flag design or plain varnish. The set also includes eight regulation bags that are filled with sand.In the event of any damage coming to your cornhole boards, Exercise N Play backs you up with a warranty.
Pros
ACA regulation

All wood construction

Sapines ad labore duius nunc
Cons
Not very portable

No carrying case
Game On!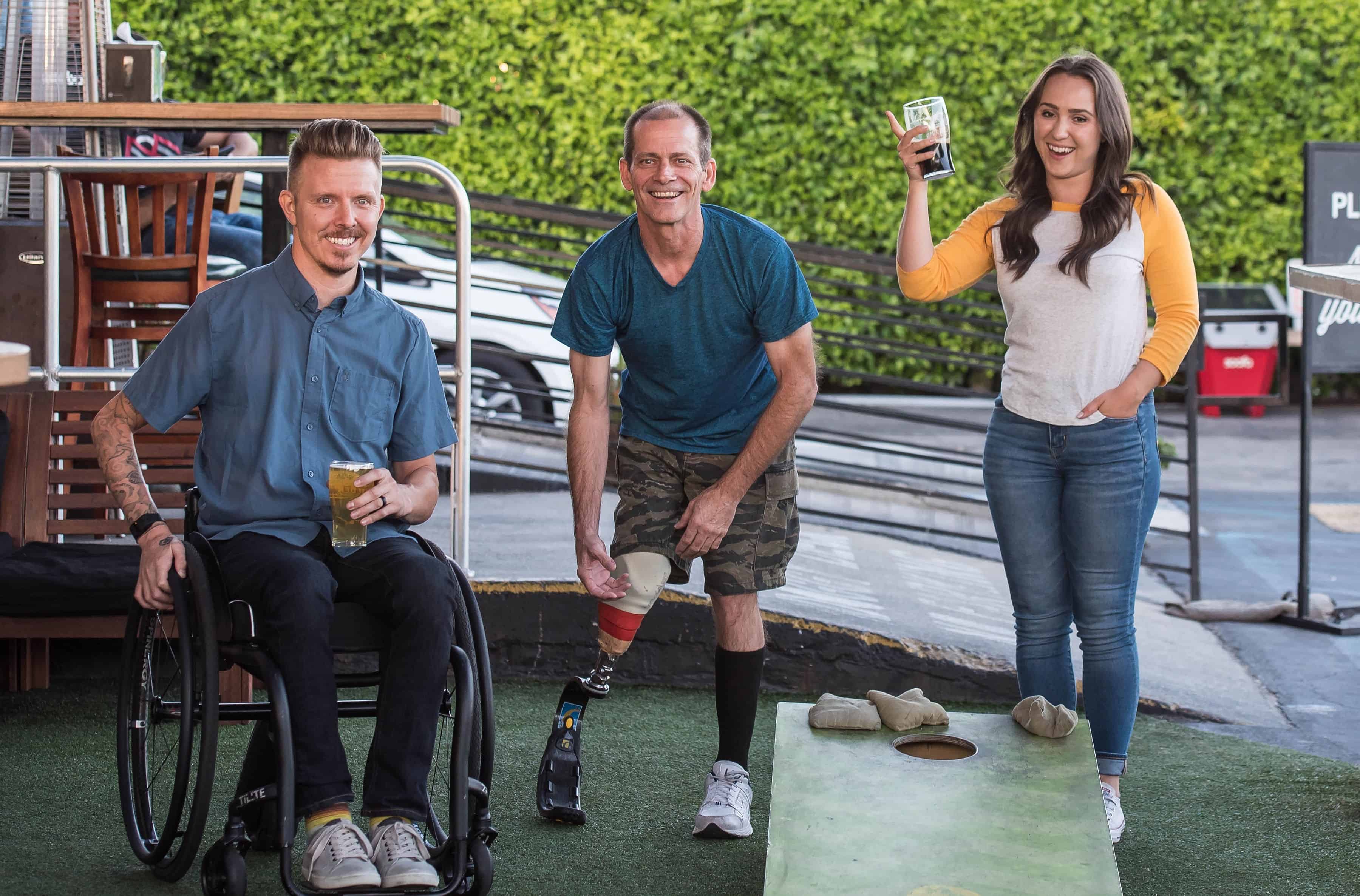 Cornhole is one of the best backyard games you can play, but it is better with the best cornhole boards. A good board can change the overall game for the better. However, finding the best board is entirely up to you and what you like.If you prefer portability over performance, your best board will be different from someone who likes the traditional feel of a regulation board. Or if you prefer to make your board with your friends or family, that's an option as well.Have you found the best cornhole boards for you? Perhaps you made your own? Let us know in the comments below!
Featured Image by cfarnsworth from Pixabay