*This post may contain affiliate links. As an Amazon Associate we earn from qualifying purchases.
Playing cornhole with your friends and family is a great way to have fun at a party or tailgate.
However, playing with low-quality bags can result in a bad game and even a huge mess. It's essential to invest in the best cornhole bags if you want them to last the football season.
Some cornhole bags may not be adequately stitched or not hold up well in bad weather. No one wants to play with damp bags or worry about them falling apart mid-game. But which bags are worth buying and are the bags that come with sets worth keeping?
Comparison Table
| Product | Image  | Rating | Check Price |
| --- | --- | --- | --- |
| Play Platoon Premium Weather Resistant Bags | Image via Amazon | | |
| Weather Resistant Bags by SC Cornhole Games | Image via Ama​​zon | | |
| Play Platoon Corn-Filled Bags | Image via Amazon | | |
| GoSports Cornhole Bean Bags | Image via Amazon | | |
| Sport Beats Cornhole Bags | Image via Amazon | | |
| GoSports Premium Bags | Image via Amazon | | |
| Tailgating Pros Regulation Cornhole Bags | Image via Amazon | | |
| JMEXSUSS Standard Cornhole Bags | Image via Amazon | | |
| TOYSHARING Cornhole Bags | Image via Amazon | | |
What is Cornhole?​
Cornhole is one of the most popular backyard games. Anyone can play it, whether you know how or not because it is straightforward to pick up. All you need is two boards, eight bags, and two to four people.
The game goes in rounds, where one member from each team tosses a bag at the opposite board in an attempt to get theirs in the hole. The team to go second can either cancel or reduce the other team's point, or score, depending on if the first team got a bag on the board. The round ends when all the bags have been thrown.
To score, you have to either land a bag in the hole for three points, or on the board for one point. The first team to 21 points is the winner. Points can be reduced or canceled throughout each round if both team's bags land on the board or in the hole.
The team with the most bags on the board takes the points. But if you go over 21 points, you have to go back down to 15 and work your way back up, giving the other team a chance to catch up.
The more you know
There are a lot of rumors surrounding the origins of cornhole. One story takes place in fourteenth-century Germany; another says it was the Blackhawk tribe in Illinois. However, the rumor that often pops up is regarding a farmer in Kentucky in the 1800s.
Since corn wasn't in Germany way back then, and we have no proof of the others… these are just rumors.
Whatever the actual origin is, cornhole exploded in the state through the Cinncinatti Bengals. This football team went around to fans of opposing teams during tailgates and taught them the game, in hopes to bring everyone closer together.
While the game was around before this, 2011 is when the game started to take hold in American culture.
Or at least that's when people started paying attention to it.
The game quickly found it's way into every backyard party and barbeque, making it one of, if not the most popular outdoor party game. Now, you can't go to a party without seeing the iconic game.
And whether you call it corn toss, bean bag, bean toss, Indiana horseshoes, or cornhole, you know what you're getting into when you start up a game.
Cornhole Bag Standards
Believe it or not, there are actual tournament regulations for cornhole. The aptly named American Cornhole Association has a list of rules and regulations for how the game should be played. Also, there are standards for how the bags should be made and how much each back should weigh.
Cornhole bags should be made from two, 6.25-inch fabric squares with a quarter-inch double stitch seam on all four sides. The material should be duck canvas and may be any color. In terms of the filling, the bags should be filled with about two cups of feed corn. However, plastic pellets may also be used in place of feed corn.
The final result should be 6 by 6-inch bags weighing between 14 and 16 ounces.
Of course, these rules are rarely kept since the majority of games are held in backyards and tailgates. Not to mention, everyone has their own rules for the game at this point. But if you ever find yourself at a legitimate cornhole tournament, you now know the standards.
Bag filling
When shopping for the best cornhole bags, you'll find that a lot of the bags available will feature various fillings. The best ones will usually be corn, but you may also find sand, plastic, beans, or even water-fillable bags as well.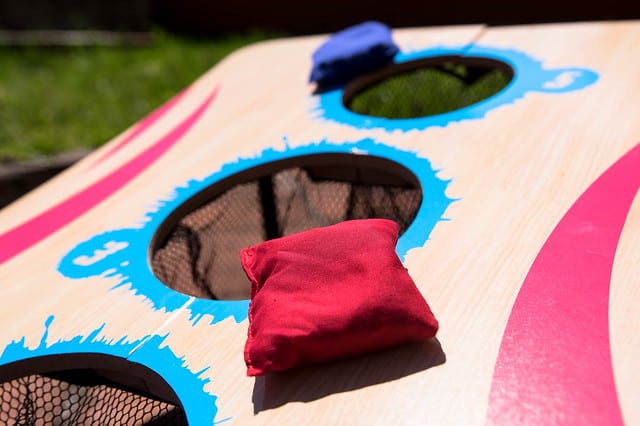 Image via ​ Flickr
If you are wondering which filling is the best to play with, obvious that would be corn.
Corn gives the most traditional feel when you're playing and requires the bags to be broken in. These also offer the best distribution of weight in the bag, allowing for even performance throughout the game.
However, since corn is an organic product, it is susceptible to decay. That means if your bags get wet or damaged, the corn will breakdown faster and will need to be replaced. But, many of the best cornhole bags will be waterproof and weather-resistant, so you probably won't need to worry about that.
Plastic pellets are usually just as good as corn, and some even consider pellets to be better. These don't require any upkeep or precautions as corn does, but they may not have the same feel as corn. Pellet bags may also bounce more than corn bags. However, that also has to do with the material the bags are made from.
Sand is a decent filling, though it tends to clump up in some areas, which can throw off the distribution of weight. Water is very similar as it will slosh around inside the bag as you throw it. It's a far better idea to go with a filling that features individual pieces.
Choosing the best cornhole bags
Surprisingly, there is a fair amount you should consider when shopping for the best cornhole bags. Sure, you can go right for the first bags you find, but how do you know they are of good quality? Will they withstand a rainy tailgate, throw off the balance of your toss, will they break in the middle of a game?
These are questions you should be asking before you buy a set of bags.
There are a lot of different materials that cornhole bags can be made from. While the standard is duck canvas, there also is all-weather canvas, as well as various blends of "pro" canvas. The pro canvas may feature combinations of suede, and additional stitches to reinforce the durability of the bags.
Some bags even feature two different textures on each side, allowing you to create your technique and add even more strategy to the game. Of course, many of these pro-level materials and makes will be meaningless to the casual player, which most players are. After all, most want bags that will hold up game after game.
However, if you want to take your cornhole game to the next level, these new blends and features may be something to pay attention to.
How We Reviewed
Unfortunately, we did not get the chance to personally test out every item on our best cornhole bags list. However, that doesn't reduce the quality of the information featured here. Everything we have here, we got through in-depth research into quality sources, expert guides, and product pages as well.
Our best cornhole bags list is made by looking at the top-rated products on Amazon, as well as customer reviews. After all, who better to tell you the truth than someone who has bought the product. We spare no time looking at accurate information to help you make the most educated decision you can.
The Best Cornhole Bags
There are standards for choosing the best cornhole bags, but when most of the top brands include those same features, it can be confusing. So how do you choose? Look at the bag itself, check out the price, and look at the style that vibes with you.
Many of these bags will feature various designs and prints that can make you look good while you win. Others may be solid colors. Which do you prefer when you play?
This list in no particular order, but they all come highly rated from Amazon and by customers.
Play Platoon Premium Weather Resistant Bags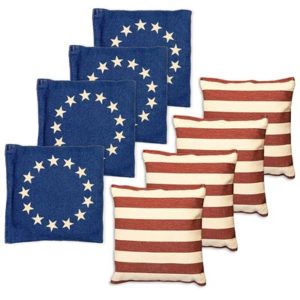 Image via Amazon
[amazon box="B07QDB4MZV"]
These premium bags from Play Platoon make sure you have plenty of designs to choose from. From the classic Betsy Ross flag design to a variety of solid colors, these bags look fantastic, but they are more than just a pretty face. They also feature a durable and weather-resistant duck cloth construction.
Sand fills these 6 by 6-inch bags, with a double stitch to ensure that no bag bursts after a hard hit. The bag set also includes a mesh carrying bag, so you never have to worry about losing a bag after a game. The Play Platoon Premium cornhole bags have a 4.4 out of 5.0-star rating and are the number one bestseller on Amazon.
Weather Resistant Bags by SC Cornhole Games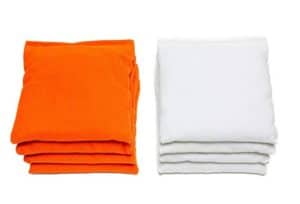 Image via Amazon
[amazon box="B008A2KWUI"]
Available in more than 30 colors, these bags by SC Cornhole Games are built to last. These bags feature durable 12-ounce duck canvas and are of regulation size and weight. The weather-resistant properties of these bags extend well past the canvas covering the bag.
The plastic pellets inside ensure that every part of the bag is protected against rain and water. Furthermore, the pellets inside these bags are made from recycled plastic, which reduces the overall footprint, for those looking to stay green.
The SC Cornhole Games bags have a stellar 4.8 out of 5.0-star rating, definitely making them a natural choice for the best cornhole bags.
Play Platoon Corn-Filled Bags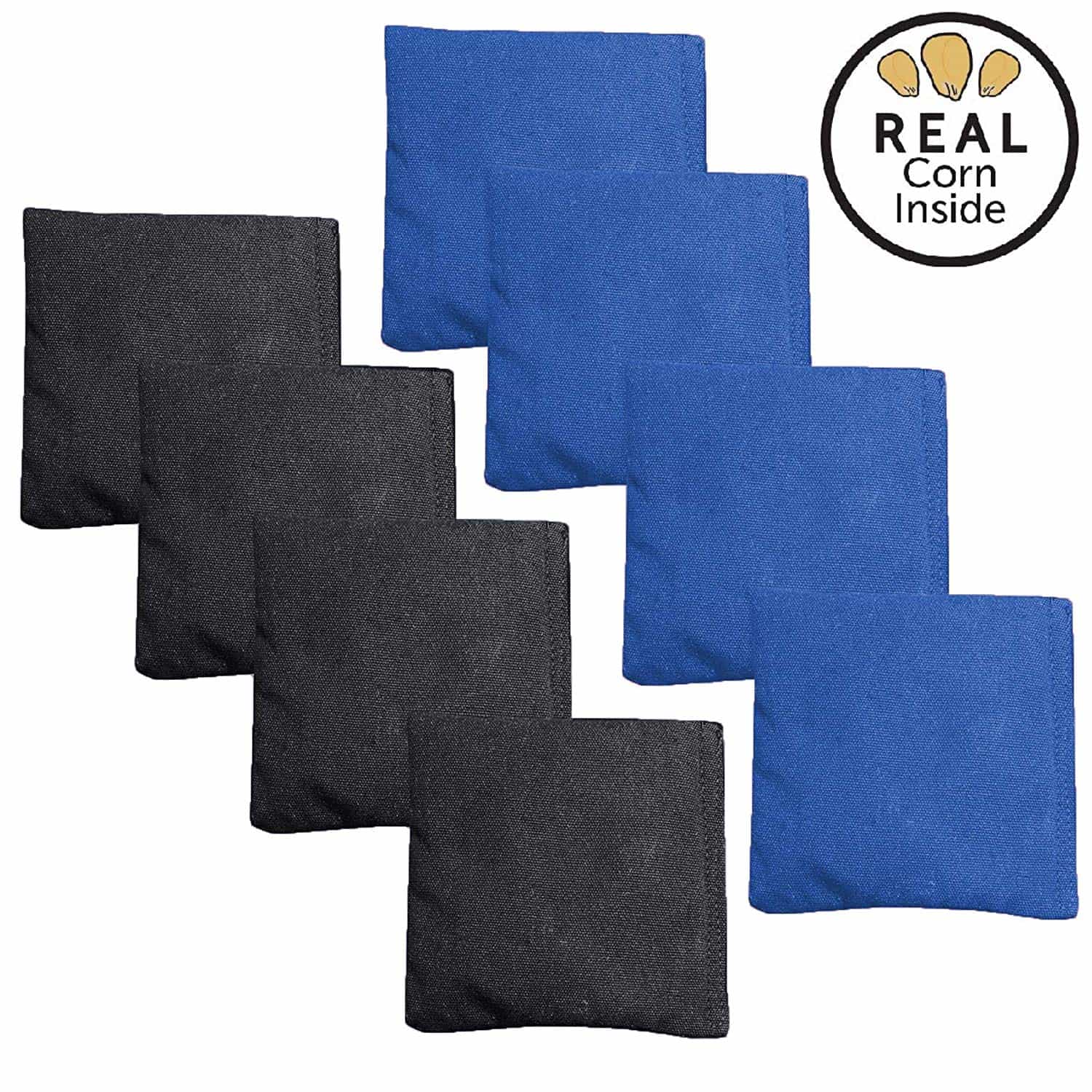 Image via Amazon
[amazon box="B07MWGZN73″]
If sand isn't your forte, Play Platoon has another option for you. Available in over 20 different colors, these cornhole bags are filled with real corn. The bags themselves feature durable duck cloth and strong double stitching to ensure that these bags last for years.
The regulation size bags also come with a mesh carry bag, so you never lose a single bag after your games. Also, Play Platoon offers a lifetime warranty on your bags, in the event of anything happening to the set. Real corn for real players, the Play Platoon real corn bags have a 4.3 out of 5.0-star rating on Amazon.
GoSports Cornhole Bean Bags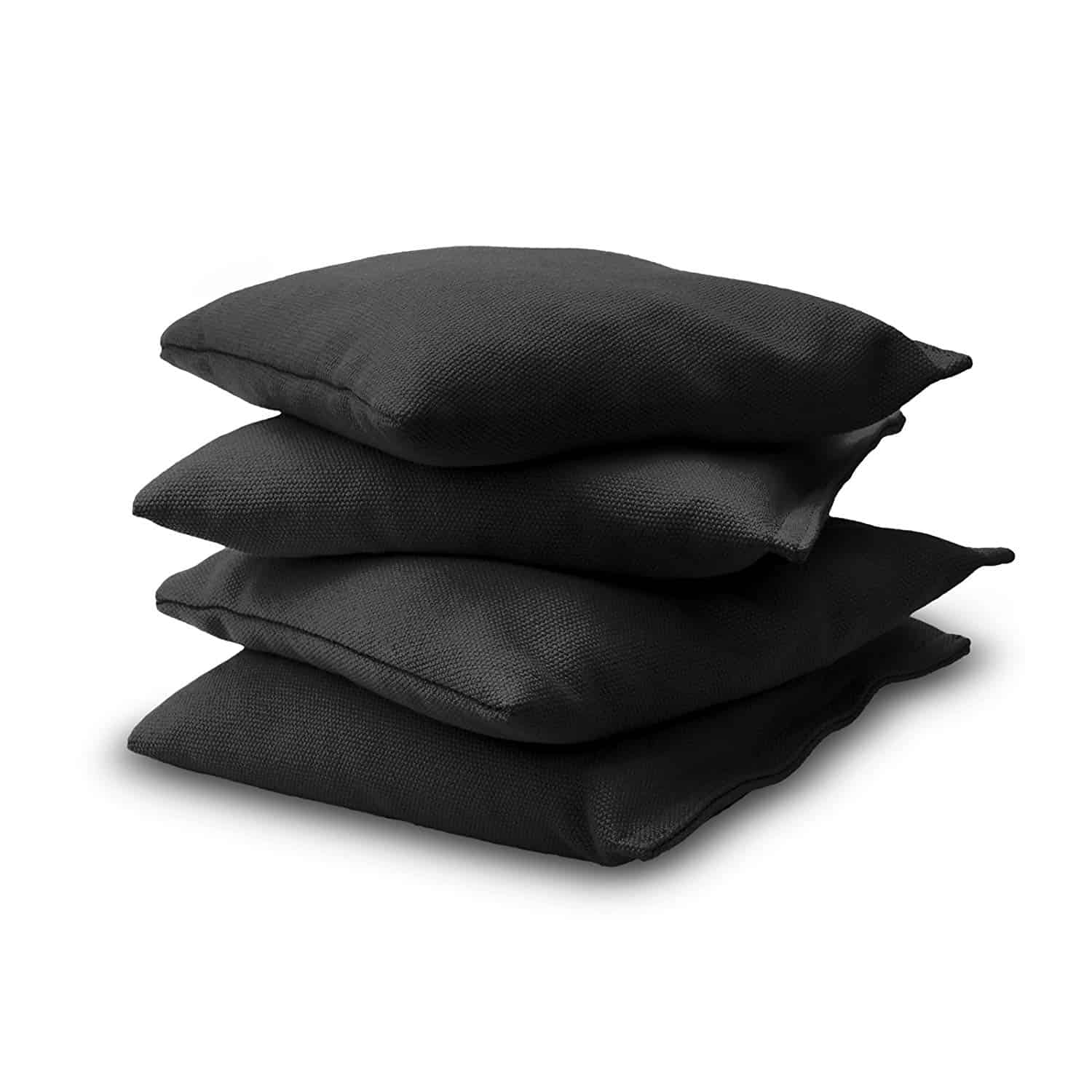 Image via Amazon
[amazon box="B01IN60KCA"]
GoSports is a popular name in backyard games, and their cornhole bags live up to that name. These bags feature heavy, weather-resistant duck canvas and are available in over 10 different colors. Inside these bags, you won't find plastic pellets or feed corn.
Instead, these bags have synthetic corn pieces to fill the bag up to regulation weight. This artificial corn allows you to keep the traditional feel of corn filled bags, but with the weatherproof properties of plastic pellets.
However, this set only offers a pack of four bags for the same price of eight. We are unsure as to why this is since it seems counterproductive only to offer four for such a high price though it may have to do with the production cost of synthetic corn.
Regardless, the GoSports Bean Bags have a 4.5 out of 5.0-star rating and a badge for Amazon's choice product.
Sport Beats Cornhole Bags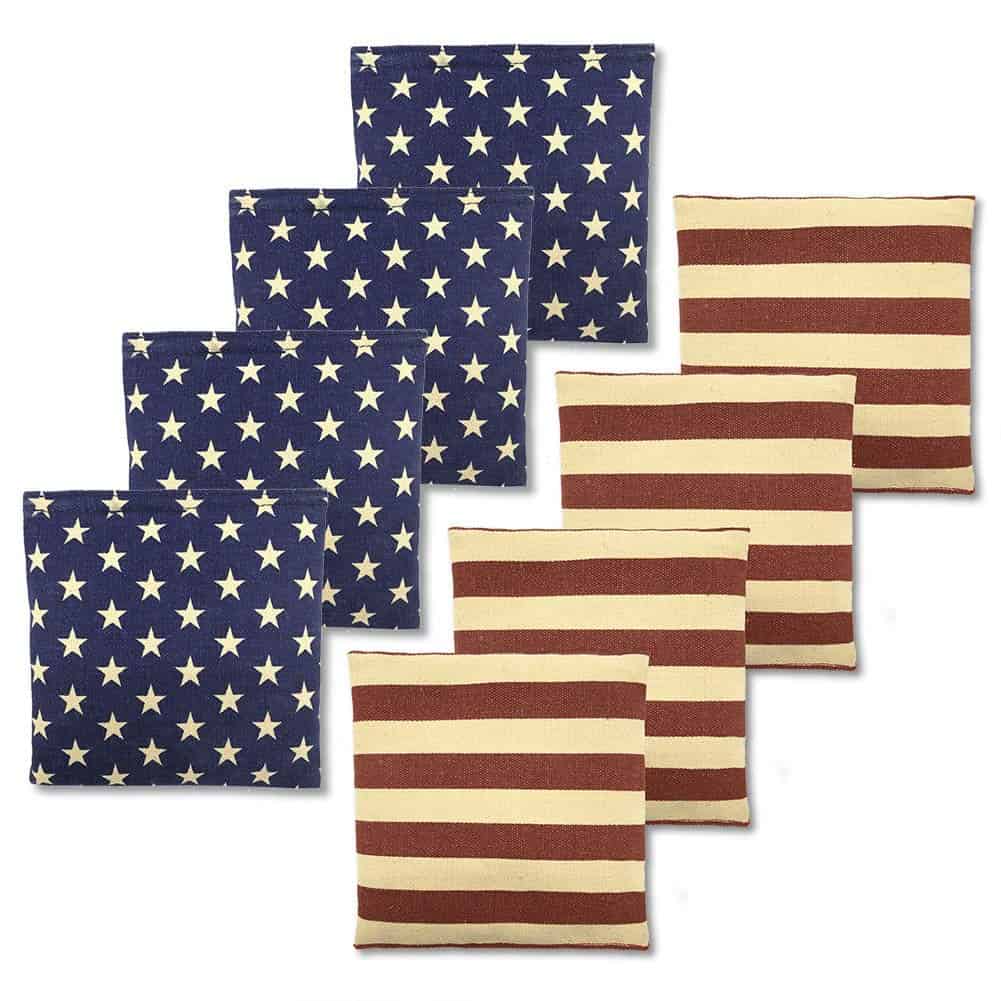 Image via Amazon
[amazon box="B07TRGMW3X"]
Weather resistance is a great thing to have, and Sport Beats is here to answer the call. These bags feature durable duck cloth with a double stitch for added reinforcement. Inside the bags, you'll find 16 ounces of river sand, giving you peace of mind when it comes to playing in bad weather or accidentally dropping your bags in water.
The Sport Beats bags are of regulation size and weight and can hold up on any surface, whether its grass, gravel, or concrete. This company also stands behind all of its products by offering satisfaction and a money-back guarantee on any purchase.
These Sport Beats cornhole bags have a 4.5 out of 5.0-star rating on Amazon, making them a solid choice for the best cornhole bags.
GoSports Premium Bags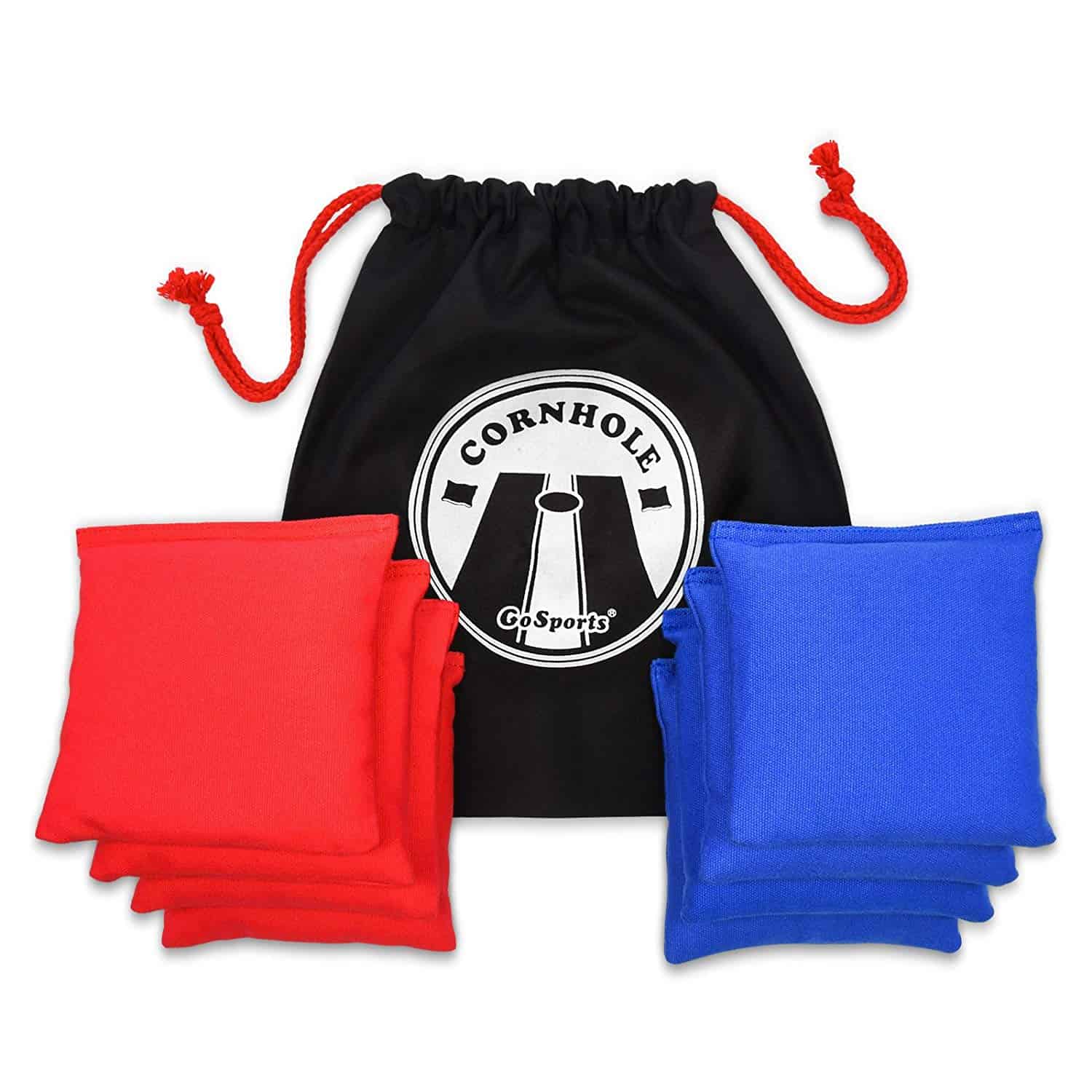 Image via Amazon
[amazon box="B008AH9FS8″]
If you love GoSports but want more than just four cornhole bags, they've got the answer. These official regulation cornhole bags feature hardy duck canvas with a double stitch seam for added durability. These are also weatherproof with their plastic pellet filling, so you never have to worry about your bags breaking down.
The set also includes a heavy-duty tote bag for quick and easy storage. While these bags come in both red and blue, a stars and stripes version is available at a different price.
The GoSports Premium 8-pack bags have a 4.3 out of 5.0-star rating and have a badge for Amazon's Choice.
Tailgating Pros Regulation Cornhole Bags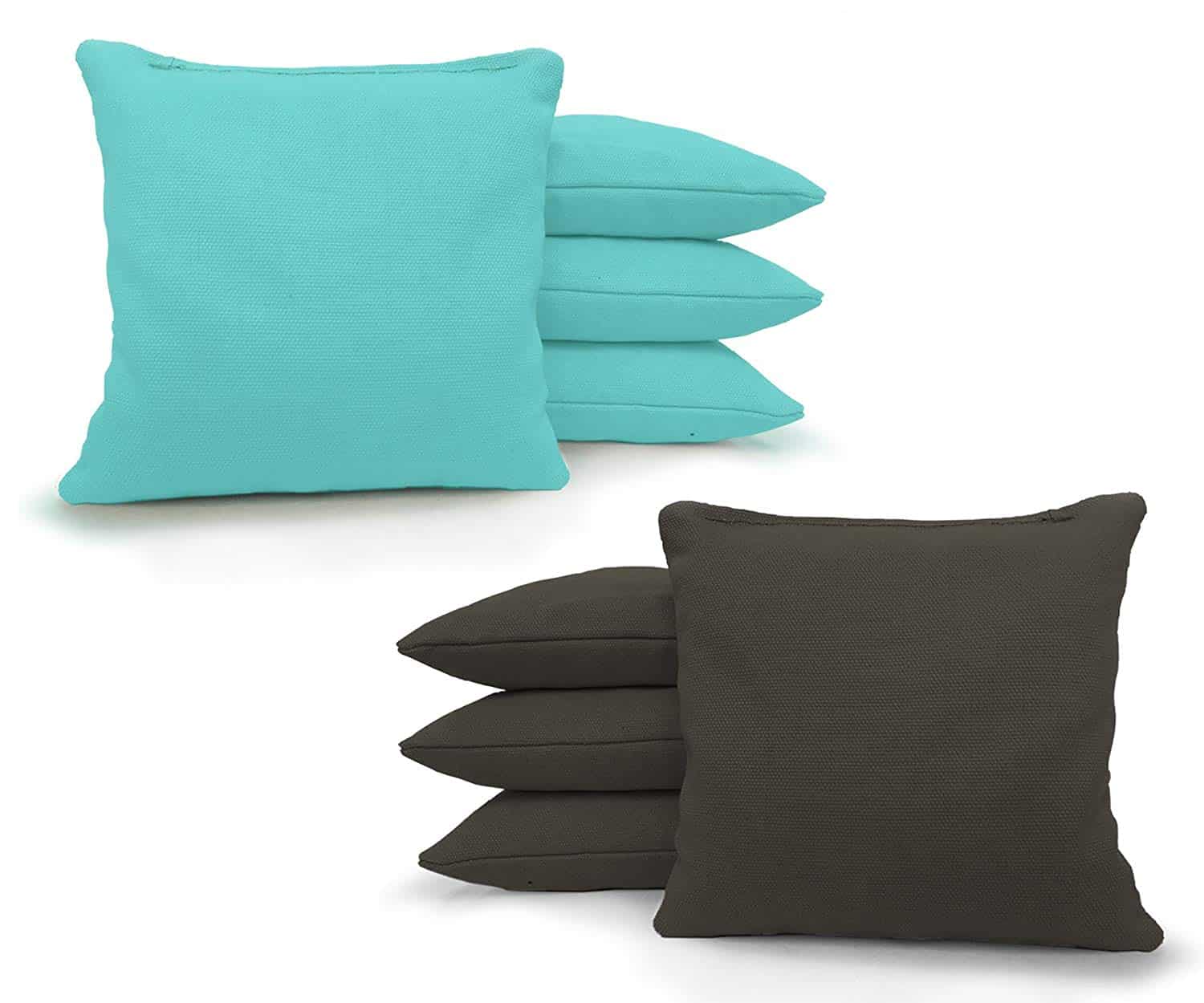 Image via Amazon
[amazon box="B008AH9FS8″]
Looking to stay within regulation but get a color scheme you vibe with, Tailgating Pros has got you covered. These bags are entirely within regulation standards in terms of weight and size, all the way up to the whole kernel corn filling. They are also made from heavy-duty 12-ounce duck canvas, so you can play on any surface without worrying about your bags.
The rather impressive color options include 20 solid colors, 4 camo patterns, along with the ever-popular stars and stripes design. Each of the 20 colors is available in a myriad of combinations, so you can truly choose the set that fits you best.
The Tailgating Pros Regulation cornhole bags have a solid 4.4 out of 5.0-star rating on Amazon.
JMEXSUSS Standard Cornhole Bags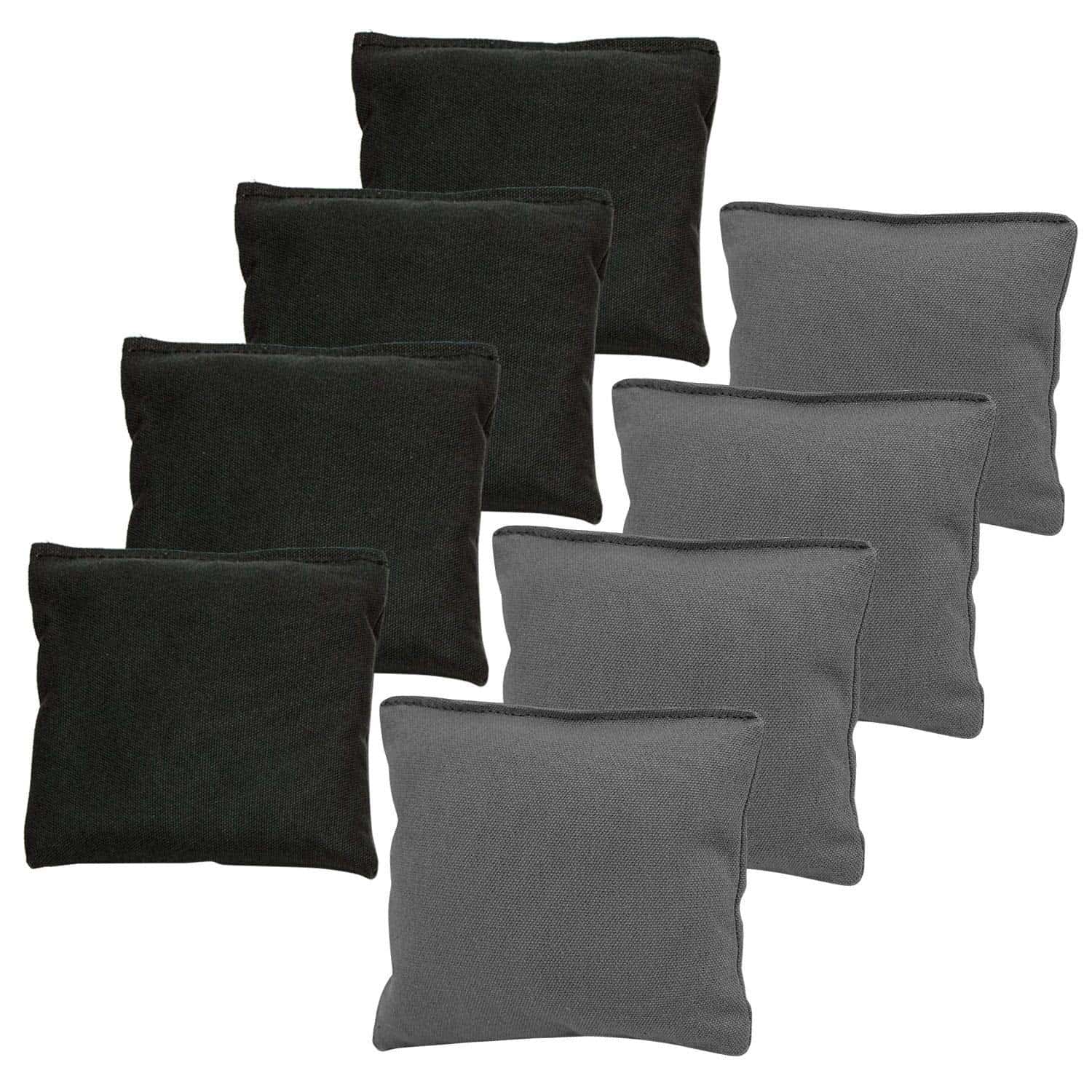 Image via Amazon
[amazon box="B07QXH6XWY"]
While they may not win any points for style, the JMEXSUSS bags are undoubtedly capable. These bags are made from durable duck canvas and feature a double stitch seam so that they won't burst during the game. At the regulation size and weight, these bags are great for playing on any surface.
A plastic pellet filling ensures that the whole bag stays weather-resistant all day, every day. But if anything does happen to them, there is a one-year guaranty to fall back on. The bags are also available in various colors at varying prices.
The JMEXSUSS standard bags have a decent 4.1 out of 5.0-star rating on Amazon. However, their description is similar to that from SC Cornhole Games, so be wary.
TOYSHARING Cornhole Bags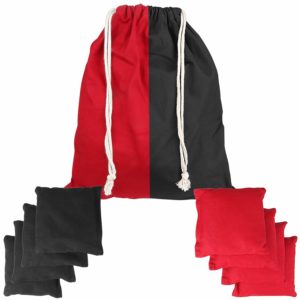 Image via Amazon
[amazon box="B074MYLYJ5″]
A modern take on the traditional cornhole bag is what TOYSHARING has to offer. These bags feature durable cotton duck canvas with a double stitch seam, handcrafted for the added personal touch. Inside, you'll find real corn kernels which give you the traditional performance of a regulation cornhole bag.
Speaking of regulation, these bags are the official size and weight, 6 by 6-inches and 16 ounces. There are three color options to choose from, but each has a separate price. Each set also comes with a tote for easy and secure storing.
The TOYSHARING cornhole bags have a 4.5 out of 5.0 stars on Amazon.
Make the Most out of Your Tailgate
Cornhole can be a great game to challenge your friends and family to at your next party. But be sure you are using the absolute best cornhole bags to play with. Using low-quality bags can throw your whole game off, or cut it short.
While there are official regulations from the American Cornhole Association, those are rarely called into effect for a backyard game. Nevertheless, it doesn't hurt to play with a regulation ready cornhole bag set.
Have you found the best cornhole bags for you? Which filling do you prefer to use? Let us know in the comments below!
Featured Image via Pixabay