*This post may contain affiliate links. As an Amazon Associate we earn from qualifying purchases.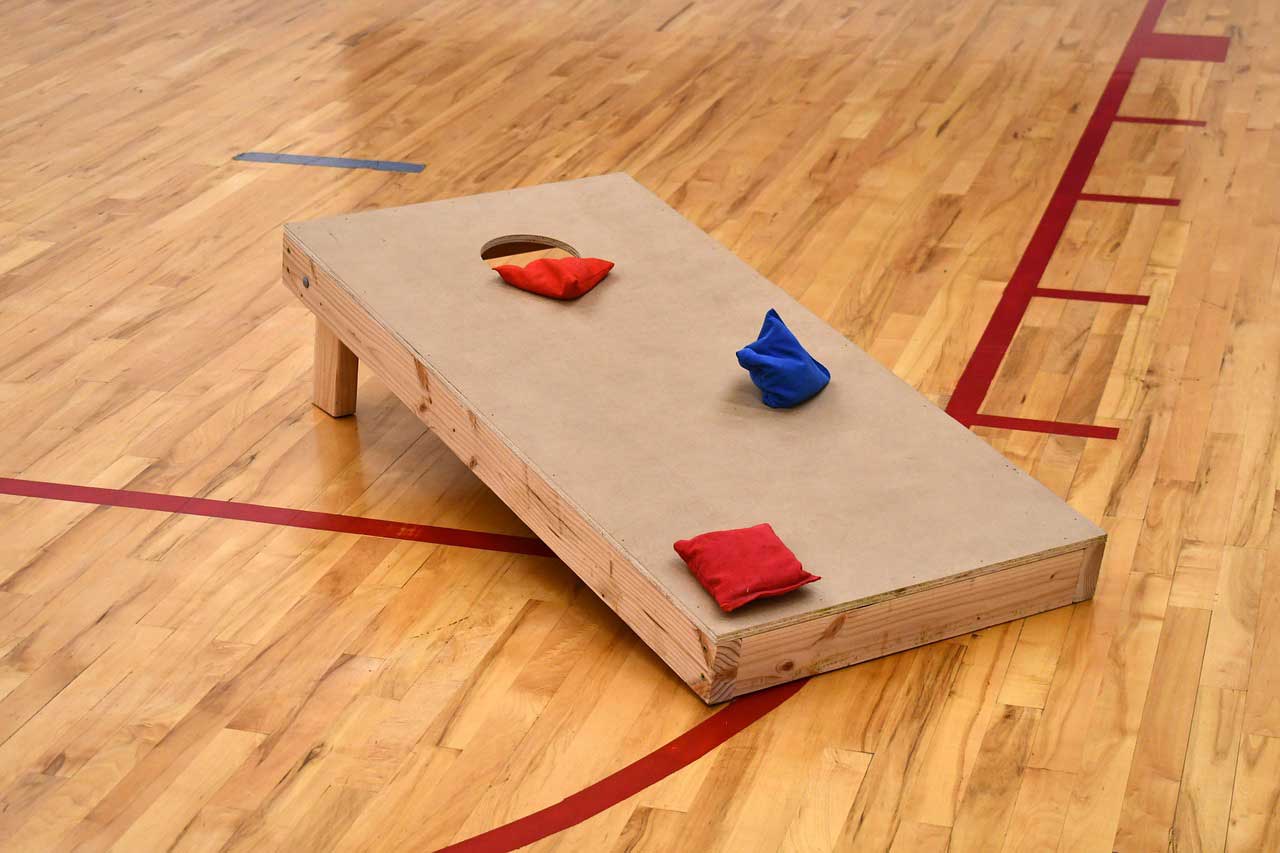 Image via Pixabay
If you've ever been to a barbeque or any outdoor party, you've undoubtedly seen a game of cornhole. However, if you never got into the game, you're probably wondering what the rules are and how to play cornhole. Luckily, the game is quite simple, as most backyard games are.
Cornhole is one of the most popular backyard party games. You may see it among the likes of horseshoes and the rules for each are very similar and even easier to learn.
What Is
Cornhole?
So, you want to know how to play cornhole. But do you know what this game even is? The idea behind it is as easy to understand as it is to learn how to play cornhole.
Cornhole is a simple game that you can play with up to four players. You can set it up inside, but it's more common to see the game played outdoors. Two players are on each team, and the goal is to reach a score of 21 by tossing bags filled with corn kernels onto boards.
There are two boards that you place facing each other at about 30 feet between the front edge of each board. There are holes near the top of the board, which you want to try to toss your bags into. Only one team can score per round, but the other team can cancel some of their points.
The first team to reach a score of 21 wins, but if you go over, there's a penalty. Cornhole is a game of strategy and cunning, but mostly, it's just great fun with friends and family.
Where did this game come from?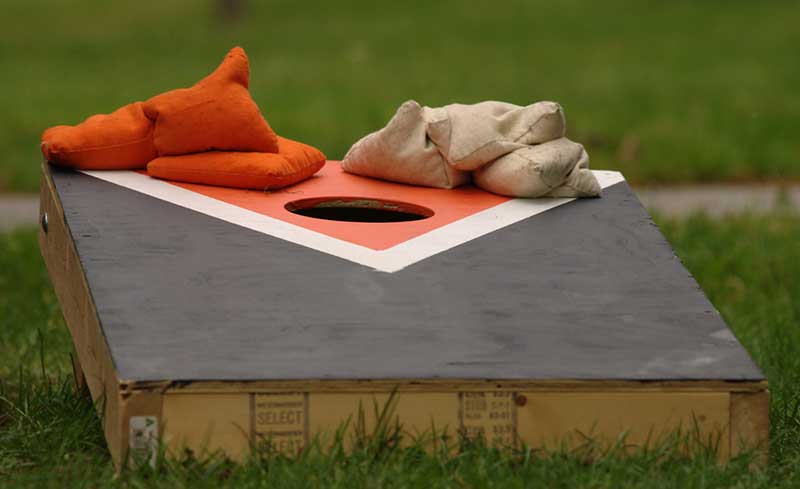 Image via Flickr
The origins of cornhole are surprisingly mysterious. There is no "for sure" origin of the game, but there are various rumors of where it may have come from. Some say the game was invented in 14th century Germany, but others say it was the Blackhawk tribe of Illinois.
However, one rumor that most agree on is that the game was resurgent in the 1800s in Kentucky. Regardless of the true origins of cornhole, the game emerged as a favorite pastime in Cincinnati and spread like wildfire to outdoor get-togethers everywhere. In 2011, the New York Times reported that the game was "sweeping the Northeast."
The game found its way into parties of many kinds, from backyard barbeques to tailgates. The Cincinnati Bengals football team taught fellow tailgaters from opposing teams the game, and it just took off. Now, you'll most likely find cornhole in just about every tailgate party before the big game.
But why is the game so popular? There are a lot of popular backyard games, but cornhole is arguably the king of them all.
The best thing about the game is that it's portable, easy to learn, and even easier to play, not to mention that people of all ages can play the game. The games themselves don't take that much time to play through. The set-up and clean up is a cinch, and best of all, the stuff you need is pretty cheap.
Why the name "cornhole?"
Depending on where you are, you may call cornhole something different. The game may go by names such as corn toss, bean bag, bean toss, soft horseshoes, or even Indiana horseshoes. However, the game is most commonly known as cornhole.
The name is pretty much just the basic description of the game itself. You play with bags filled with corn kernels, and you try to toss them in a hole. Hence, cornhole.
It's pretty simple, but that's how a lot of American things are named, to be honest.
How to Play Cornhole
Learning how to play cornhole is pretty easy, and the best thing is, anyone can play. But being good at the game is a whole other story.
The game works best with two teams of two people, but two individuals can also play the game. You'll start by setting the cornhole boards about 30 feet apart, facing each other. Each person gets four bags to toss per turn.
If you are playing in teams, one person from each team will be at each of the boards. That means you and a member of the opposing team will be on the same side of the "field." You each take turns throwing one bag toward the other board in an attempt to get your bag in the hole.
When you are throwing, your front foot should not go past the front edge of the board.
Once everyone has thrown all of their bags, you tally up the points. However, only one team can score per round. The scoring can change throughout each round, and it won't be for sure until the round is over.
Scoring and rules
To properly learn how to play cornhole, you should know when you can score. Each round is a battle for points.
There are two different point sets you can earn per round. A bag on the board gets you one point, while a bag in the hole gets you three.
To score, you need to either get your bag in the hole or on the board. However, this is where the game gets a bit tricky. You can "block" the other team from getting points.
If both you and the other team lands on the board, the scores cancel out. The same rule goes for if you both get it in the hole.
For example, say you toss your bag first, and it lands on the board; then the other team tosses and also gets it on the board. This means that your original point for getting a bag on the board is canceled out. Now, if you get a bag in the hole and they get one on the board, your three-point score is reduced by one.
Essentially, whoever scores first has the better chance of getting the final score for that round. However, as long as the other team reduces the round score to zero, they can start to build up their score.
A bag in the hole always takes the lead. So, if you have one on the board, the other team can get one in the hole, and their score will just be reduced by one.
What You Need
The items you need for cornhole are few and easy to get. To learn how to play cornhole, you'll need two identical boards, maybe differing in color, and eight cornhole bags. The colors for four of the bags will need to be different as well, so you can tell which team threw which bags.
Now, you can get full cornhole sets that come with two boards and eight bags. These will vary in price, depending on what the boards are made from, as well as the bags. However, it's easy to find an affordable set on Amazon.
There are a lot of these sets, but the GoSports classic set is pretty sweet. Red and blue all-weather bags, with two 3-inch by 2-inch boards are perfect for a tailgate or party cornhole set. There are a lot of different sets and styles you can choose from as well.
Boards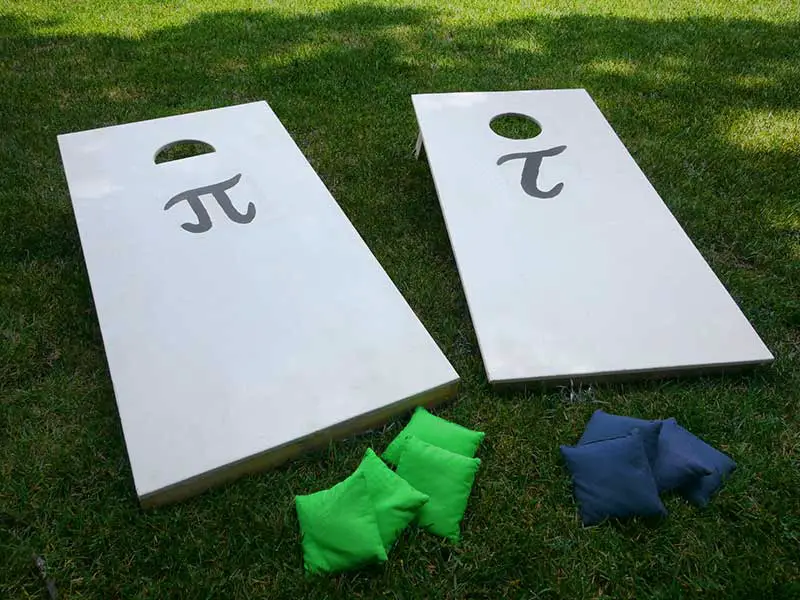 Image via Flickr
While there are a lot of cornhole boards you can choose from, they should all follow the same style. They should be rectangles, with a hole near the top of the board. However, the sizes may vary, but the regulation measurements are 48 inches by 24 inches.
Now, if you want to save some money, you can easily make your cornhole board. All you need to make a board is plywood and a flat slat of wood for the top of the board. Cut each one to size, cut two smaller pieces for the pegs to prop up the top, and voila!
Of course, if you want to make it easier but want to make them your own, there are plain wooden boards you can buy. These allow you to paint whatever design you want to make them unique. The Backyard Champs set features such a board.
Get Your Game On!
Learning how to play cornhole is a great way to get in on the fun during a tailgate or backyard party. This game is an American staple and is honestly a ton of fun. Once you get the technique down, you'll be dying to challenge your friends and family to a game!
When did you learn how to play cornhole? Do you have your own set? Let us know in the comments below!