*This post may contain affiliate links. As an Amazon Associate we earn from qualifying purchases.
If you throw an outdoor party, you can be sure someone will bring a game to play. Over the years, backyard games have become a staple of any outdoor or tailgate party. So for your next get-together, why don't you check out some of the best backyard games with your friends or family?Backyard games can be great fun for anyone, but each game has different items that you're going to need to play. Some games require boards, others you'll need special balls.And even though some rules may overlap, each game is unique and requires different skills.
Take It Outside with the Best Backyard Games for Friends and Family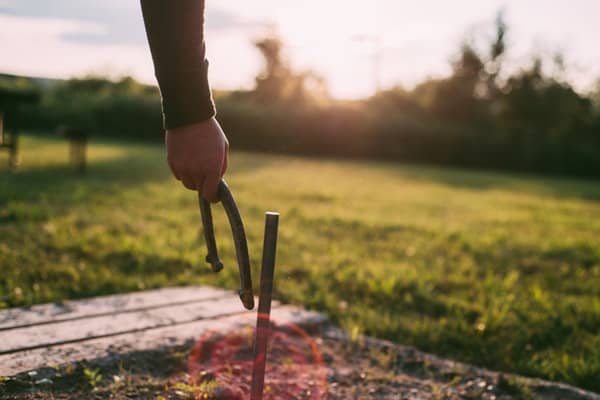 Photo by Laura Stanley from Pexels
There are a lot of games that you can play indoors, but what about outside? Backyard games are just the trick.Backyard games, as the name suggests, are games that you can play outside. While, of course, you can play them inside your house, they are designed with a backyard in mind.The beauty of many outside games is that they are straightforward to set up, learn, and play pretty much anywhere you want.Some of these games found their popularity through major league sports like football. Others were passed down through familial generations. And then, some games target certain age groups.
What makes the best backyard games so popular?
The best backyard games are popular for a reason. These are games that anyone can pick up and play with no previous experience. Many of these games require very little skill to play (though winning is a different story).From the outside, they may look like simple, fun little games. However, when you get into it, you'll find that there's plenty of strategy and talent that goes into them.Of course, most people play them for fun and depend on luck to get through the game.Parties are hard enough to plan without setting up the entertainment as well. That's why backyard parties are so great. Even if someone doesn't know how to play a particular game, the rules are simple enough that you won't have to spend much time teaching them.
Choosing the Best Backyard Games for Your Next Event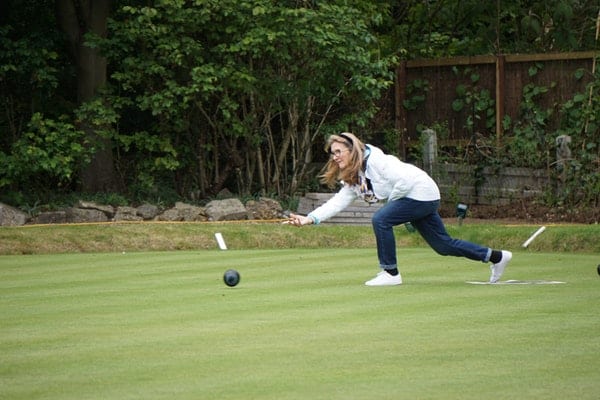 Image via  Pexels
There are a ton of games out there geared toward an outdoor setting. Many of these are very similar and rely on overlapping rules.Some games also target specific groups of people. For example, there are drinking games that require the players to be over 21, as you'll be drinking alcohol while playing. Others are for kids and are significantly easier to play than some of the other games.Some games require a ball, others you'll need bags, and some you'll have to use something more heavy-duty like horseshoes. But a lot of these games will have you buying multiple items to play with.Some are easier than others to set up, like cornhole and bocce ball. Some have a lot of moving parts for you to keep track of, so you'll most likely need a designated court. Depending on the space you have available, one type of game may be better than others.Some of these games also require a set number of people, so if you only have two people available, your selection of games may be limited.
The ones you already know
The bulk of games that families play today have been around for a while. Games like cornhole and bocce ball have been around since before many of us were even born.
Since they've been around forever, each family or group of friends has their own version of the rules.
You'll most likely find these games played at picnics and barbecues by people of all ages. These also have relatively easy rules and are simple to master.
And the ones you might not
Recently, there has been an explosion of brand new games invented with a younger crowd in mind. These games usually require a larger space for you to play and may borrow rules from older games.In today's day and age, it's not rare for a brand new game to become one of the best backyard games out there.You probably won't find these at your family get-together, but you might see them at a college party. These newer games will also have far more flexible rules, as younger people often like to adjust them and add to the game.
How We Reviewed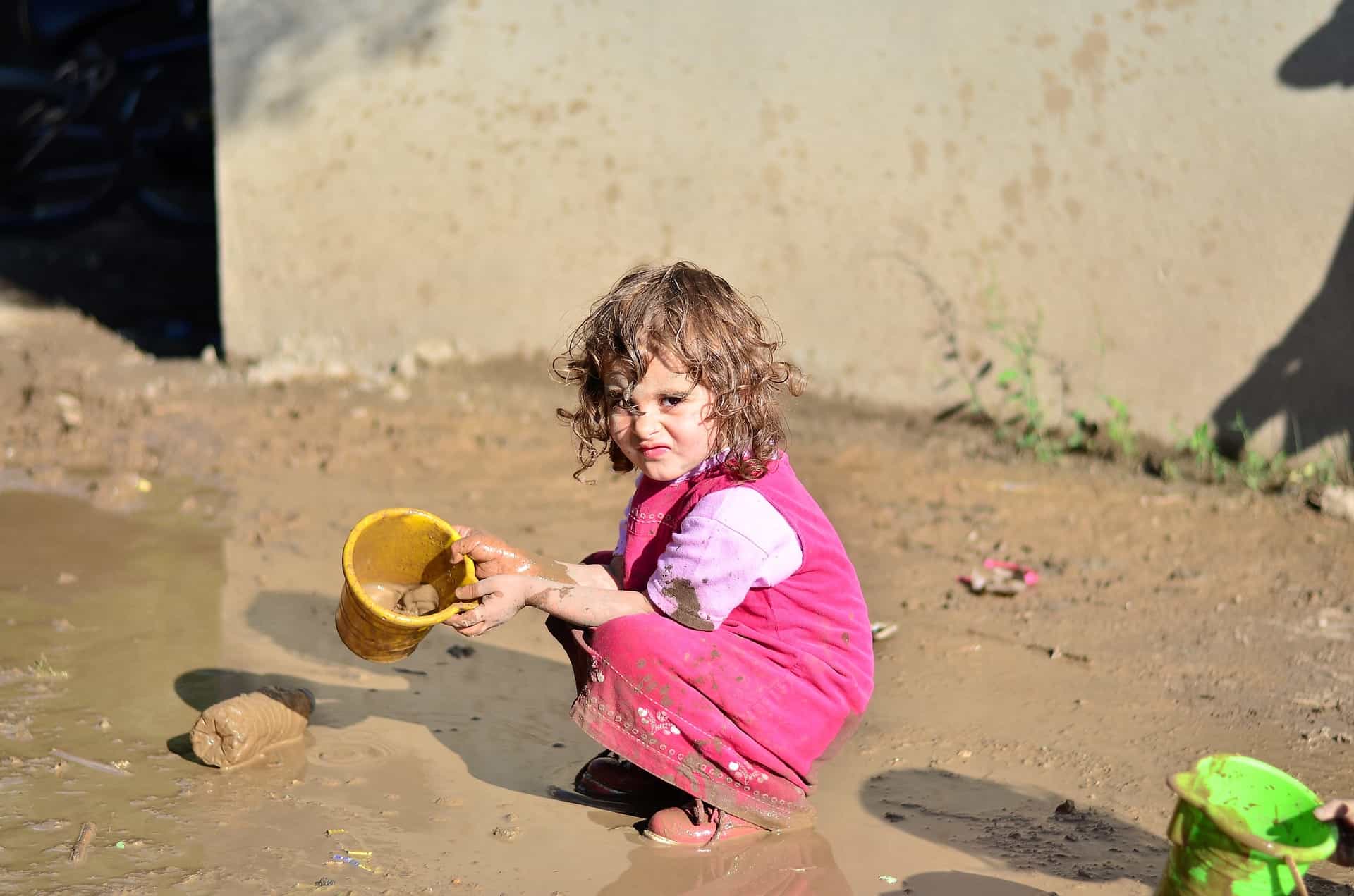 Image by RÜŞTÜ BOZKUŞ from Pixabay
Unlike most review pieces we have, this one isn't about products so much as it is about the games themselves. There are a lot of games out there, but we chose the top five best backyard games to showcase here.We've played a handful of these games, but others are as new to us as they may be to you!Nevertheless, the information here is all taken from reputable sources and guides. We've also included information on each game's rules and some of the best equipment you'll need for each game.
The Best Backyard Games for Any Occasion You Can Imagine
There are plenty of games out there, and there's no doubt your family has played some of their own. However, there are just a handful of the very best backyard games that everyone should play.There are many different types of equipment to choose from for each game, but the ones mentioned here are our top recommendations.
KanJam Ultimate Disc
This is a relatively new game, but it borrows the style and rules from two others. You've undoubtedly heard of Frisbee golf and ultimate Frisbee. Well, this game takes Frisbee golf and adds a hint of cornhole to it.KanJam Ultimate Disc is a two-on-two game, where each team takes turns trying to throw a Frisbee in the opposing goal. However, every person is continuously involved throughout the game. The first team to reach a score of 21 is the winner, but you can also get an instant win, though it's very rare.Even though it's rather new, KanJam Ultimate Disc is still worthy of being one of the best backyard games.
How to play
The teams are set up with one on each side of the field. They stand on either end of the can, which is a round piece of plastic with a hole at the top and a small slot in the front.Teams take turns trying to score points by throwing their Frisbee at the can.Points are decided by which part of the target you hit. If the Frisbee hits the bottom of the front, you get two points. Get the Frisbee in the top hole, and you get three. You get just one point if it hits the back of the can.If you get it in the center slot, you get an instant win!Your teammate on the opposite side of the playing field is allowed to hit the Frisbee in the air to alter the trajectory. This means your throw can end up in the top hole or hitting the back.
KanJam Ultimate Disc Game
[amazon box="B07CJMP919″]This game is licensed by an actual company called KanJam, unlike many of the best backyard games. This means there is only one official KanJam set that you can buy, but there are also several knockoff brands.In the set, you get two portable goals, which are flexible plastic sheets that you fold around and connect in the back to form a can. You also get a Frisbee, as well as instructions on how to play the game.There are a few different designs you can choose from, which are all licensed by KanJam. If you ask us, the glow-in-the-dark version is by far the coolest one available.
Horseshoes
Here's a game you've probably played before. Horseshoes is a seriously old game where two teams of two face off with a set of actual horseshoes.Each team takes turns tossing the horseshoes at the opposite peg, trying to get as close as possible.This game also borrows the scoring system of cornhole, or maybe it's the other way around. Either way, the game has been modernized, since horseshoes are becoming harder and harder to find.Nowadays, you'll probably find sets with weighted plastic horseshoes instead of traditional metal ones.While traditionally you play this game in a sandpit, you can also play it on the grass. The long history of this game makes it a sure choice for any list of the best backyard games.
How to play
The game is set up like most of the best backyard games, with teams of two facing each other at a distance. Usually, you'll stand 40 feet apart, but you can alter that to fit the space you have available.Each team takes turns tossing their horseshoes at the opposite peg. Whoever reaches a score of 21 wins, but you must win by 2 points.You can earn points depending on where the horseshoe lands in relation to the target. If it's within 6 inches of the peg, you get one point. If it's touching the peg, that's two points.A ringer is when you get the horseshoe around the peg, and that's three points!
AmazonBasics Rubber Portable Horseshoe Outdoor Yard Game Set
[amazon box="B0711KVWD7″]
A standard horseshoe set will come with two rebar pegs and four actual horseshoes. However, since times are changing and game makers have to be wary of the safety of their players, those standards have changed a bit.With the AmazonBasics Rubber Portable Horseshoe Outdoor Yard Game Set, you get four plastic horseshoes, two rubber mats with posts, and two stakes.The two different types of targets allow you to play the game on different surfaces. If you're playing on pavement, you can use the rubber posts, but if you'd rather play on the lawn, you can use the stakes.The horseshoes come in two colors, two blue and two green, so each team knows which is theirs. Thanks to its lightweight construction, this set is easy to carry around wherever you need. Amazon also backs the whole set with a one-year warranty.
Cornhole
Easily one of the best backyard games in existence, cornhole has been around for quite a while. Its origins aren't quite known, as no one is sure where the game came from.Over time, this game gained popularity and has become an American classic. It's easy to set up and even easier to play.Many newer backyard games have also borrowed some rules from cornhole, which just goes to show just how popular it is.
How to play
As with many of the best backyard games, this is a two-on-two game. Two boards face each other with one member from each team on either end of the field.Each side takes turns tossing their bags at the opposite board.The team with the most bags on the board takes the score at the end of each round. Teams get one point for each bag on the board and three points for a bag in the hole. However, the opposing team has the chance to cancel and reduce some points during each round.You win by reaching a score of 21 first. But if your score goes over 21 at any point, your total score goes back down to 15, and you'll have to work your way back up.
GoSports Solid Wood Premium Cornhole Set
[amazon box="B00HFAH9WU"]
There are many different cornhole sets that you can choose from. But by far the best set is one made from wood that also features a full selection of quality bags.The GoSports Solid Wood Premium Cornhole Set offers two different board sizes. The regulation size is 4 feet by 2 feet, and the tailgating size is 3 feet by two feet. Both are made from solid wood and feature a varnished surface so you can paint whatever design you like on the front.The bags are made from heavy-duty canvas, and the set comes with a convenient carrying case. This allows you to store and travel with the set from place to place.
Bocce ball
By far one of the oldest of the best backyard games, bocce ball has been around since the Ancient Egyptians. While it's trendy in Europe, bocce ball has become increasingly popular in the United States since 1994.Today, there are a ton of devoted bocce fans around the world.This is a game very similar to Canadian curling or marbles (if anyone out there still plays marbles). You can play the game with up to eight people pretty quickly. In fact, the whole game is extremely easy to learn and play.
How to play
Bocce ball plays the same, whether you have two players or eight. Each player takes their turn trying to get their ball as close to the pallino, or target ball, as possible. The first team to reach a score of 12 wins the game.However, as in cornhole, only one team can score per round. The points go to whoever is the closest to the pallino ball.If your ball and the other team's ball are the same distance, the scores cancel out.You can play this game on any surface, though playing on sand or lawn is best as it adds more resistance to the balls.
AmazonBasics Bocce Ball Set with Soft Carry Case
[amazon box="B0145IWGHM"]Most bocce ball sets are pretty similar. After all, you don't need much to play this game. The AmazonBasics Bocce Ball Set with Soft Carry Case features four red and four green poly-resin balls, one set for each team, along with one white pallino ball.The balls in this set also feature one of two carvings, so up to eight different players can keep track of their balls. This set comes with a carrying case, which allows you to keep track of all the pieces of the game and bring it to and from different events.
Spikeball
This is a game that came around thanks to the ABC show "Shark Tank." This relatively new game is a unique take on volleyball and requires quite a bit of athleticism.But, as with most of the best backyard games, you can play Spikeball anywhere.The game is also similar to the likes of four square, but for adults. You'll be moving around a lot, so prepare yourself for a workout!While this game is practically brand new, the hype around it makes it an obvious choice for one of the best backyard games.
How to play
Two teams, each with two players, face off against each other. From here, the rules for Spikeball are very similar to volleyball.One player starts by serving the ball down at the net below, which bounces the ball towards the other team. That team has three hits between them to control the ball and bounce it back to the first team. If they miss or go over three hits, the point goes to the other side.There are no boundaries, so get ready to move around quite a bit. Your team wins by reaching a score of, you guessed it, 21 points.
Spikeball 3-Ball Kit
[amazon box="B002V7A7MQ"]Spikeball, like KanJam Ultimate Disc, is licensed by its own company. This means there's only one official Spikeball set on the market.With the ​Spikeball​ three-ball kit, you get an adjustable net and frame, three balls, and a tote with the Spikeball logo.In this set, there are a lot of parts, so the set up may take a bit longer than other games. But then again, it is a more involved game than others.Once you set up the game, the net features foldable legs so you can carry it around as needed. Pop the balls in the tote, and you're ready to head out to your next spot.
Ready? Set. Game On!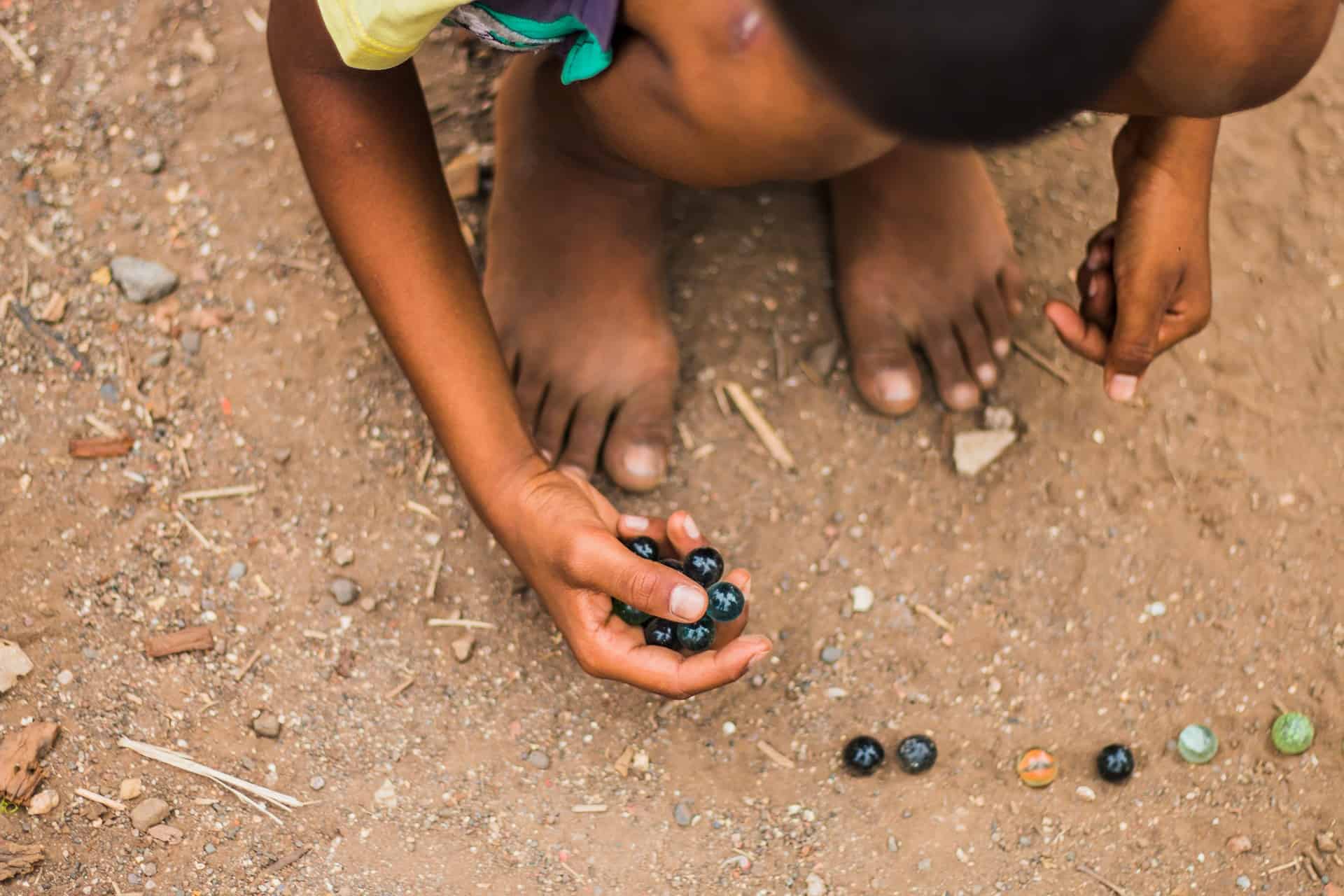 Image by Varun Kulkarni from Pixabay
There are plenty of great games that you can bring around to your next family party, but which are the best backyard games for you? They all require different skill sets and equipment. But most people know how to play these games with little experience needed.Depending on your age, you might also be drawn to one of the newer games that are available.However, nothing beats a classic, and it's never too late to jump into a game of cornhole or bocce ball!Which of the best backyard games is your favorite? Have you played any of these games already? Let us know in the comments below!